Complete underwater survey, inspection, & recovery facility utilizing the latest Remotely Operated Vehicle (ROV) technology.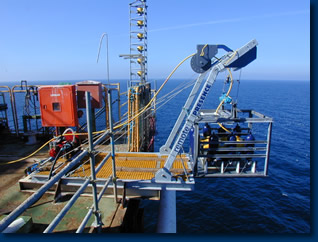 pLARS Platform Launch & Recovery System MORE INFO
This state of the art system is the first of its kind to be based, full time, in Ireland. The complete ROV system is available on a hire with pilot basis, usually on short notice, anywhere in Ireland, the U. K. or beyond.
The ROV, with all support components, is fully helicopter transportable. All necessary elements can be accommodated in a cargo configured Dauphin AS365N or similar chopper in a single load. More info...
MORE INFO on pLARS Platform Launch & Recovery System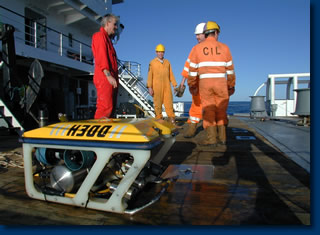 on board the ILV Granuaile for Marathon
for more information contact
info@remote-presence.com
REMOTE PRESENCE , Lettertinlish, Skibbereen, County Cork, IRELAND
t = 353 (0) 28-21821, f = 353 (0) 28-21876, m = 353 (0) 87-805-1113